I was always fascinated with the paint horse and he was the first horse I bought in February 1999.  I saw him as a weanling, hanging out with his mama in the Rockies. Two years later I owned him. His prior owners named him Jumping Jack Flash and I renamed and registered him as Quahilli. Quahilli means "Little Boy Who Runs" in the First Nations language.

Whichever name we gave him, he lived up to. He has a lot of pep and spirit and after one year I re-sold him back to his breeder. He now has a full time job working in the Rockies.
My next paint was Mekeezun, registered as Cuedeebarhemp. Her story can be found under In Memory Of.

In July 2003 I purchased Docs Pine Bar a sorrel and white tobiano paint. His lineage shows all Q-horses and paints. Solid foundation on both sides. And he looks it. I named him Cloud. He was born April 23, 2000 and is a well turned out lad, great for trail riding and for fun activities. He does anything I ask of him and is a lot of fun in the process.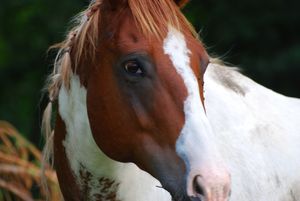 Cloud is pictured below.  Cloud is also available for part board and is used for lessons.

In November 2006 I purchased Ruby Racer, a black and white  tobiano paint.  I renamed him Ouray, which means "Arrow" in a First Nations language. His birth date was May 6 2004.  His lineage has mostly tobiano with only two Q-horses going back 4 generations.  Ouray is not built in the foundation manner at all. A lot sleeker and he has some great moves.I gave Ouray away Dec 2012.

My two Friesian crosses, Metina and Nitika have a touch of their mother, Mekeezun, but mostly seem to have their father's influence. You can find more out about Nitika under Nitika Friesian Sport Horse SOLD and more about Metina under Metina Friesian Sport Horse SOLD
 
The grumpy old men that lived with Cloud and I have all passed.
Boomer, registered AQHA as Lovyatildeendatime was an Appendix Q-Horse. He was born in March 30 1989 and was the grandson of Affirmed, the last winner of the Triple Crown. Boomer had a lot of fast moves and a very independent personality. He was ridden by a friend of mine and the two looked like they were meant for each other. He retired from active riding but he was the herd leader and a "Grumpy old man".  He died Nov 2022, in Nova Scotia at the ripe old age of 33.  Cloud was really affected by his passing, as we had just moved here from ON the month prior and they had been together for 20 years.

Aztec, a boarder, was a former pasture mate of the deceased Equinox.  Aztec, a chestnut Q-Horse was about 30 or so when he passed.  Cloud who was his buddy really missed him.

Equinox, a T-bred who lived here, died September 9, 2010 at the age of 30. He is missed by all of us.